Maidenhead Static Model Club
Charity Fund

Each year the MSMC aims to collect at least £750 for charity, in particular for children's charities, since most of us collect children's toys.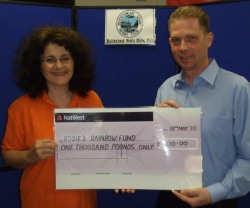 In June 2010 (pictured left) we
once again presented a cheque for £1,000 to Carolyn Mayling from 'Rosies Rainbow'. This money is mostly raised from our raffles and toy fair charity stall.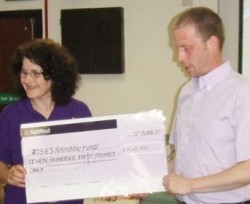 In June 2009 (pictured right) we presented our chosen charity Rosie's Rainbow with a cheque for £750. Carolyn Mayling from Rosie's Rainbow showed us a DVD concering the history and the work of the charity. The charity helps both children and their carers.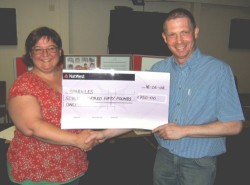 In June 2008 (pictured left) we made a presentation to the charity 'Sparkles'. The cheque for £750 was presented by chairman John Ward to Sparkles' representative Carole Arnold who gave a short speech of thanks to the members at the June club night.



At the June 2007 club meeting (pictured right), we received a welcome return visit and grateful thanks from Fiona Neal, the head of Manor Mead School, Shepperton and her assistant.
John Ward presented them with a cheque for £1,000
. The money will be put towards the fitting out of a much needed activities room for handicapped children. This is our second gift to Manor Mead and we are delighted to help once again.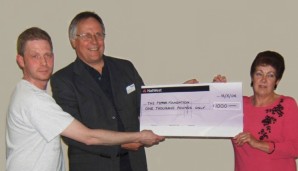 At the May 2006 club night, chairman John Ward presented a cheque for £1,000 to Jonathan Tweed from the Pepper Foundation, a voluntary organisation which funds home care to help seriously ill children within the local community
. Also in the picture (right) is our librarian Barbara Simpson.
The 2005 charity cheque presentation was made at the September club night. Mary Nest-Richardson from Penn School, Buckinghamshire gratefully accepted the £1,000 cheque from our treasurer. The school will use the funds towards their new science room.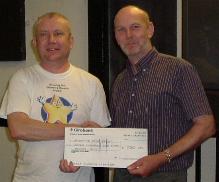 At the May 2004 club night, the MSMC welcomed Mike Reynolds from the Shooting Star Trust, who accepted the club's second donation this year of £750. Mike told club members how the money is being used for their new hospice in Hampton, Middlesex and touched on the high running costs involved in such a venture. Members also bid on a selection of models that were kindly donated to the club's charity fund by Model Collector magazine. This boosted the Shooting Star Trust donation by a further £28.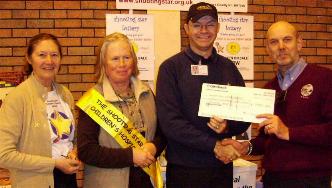 At the 100th Windsor Toy Fair on 31st January 2004,
Peter Carpenter, the MSMC Chairman, presented a cheque for £750 to Mike Hey, Lottery Manager of the Shooting Star Trust. Thanks to the club's charity fund-raising activities we are able to support Shooting Star Trust with their building of a new hospice in Hampton, Middlesex.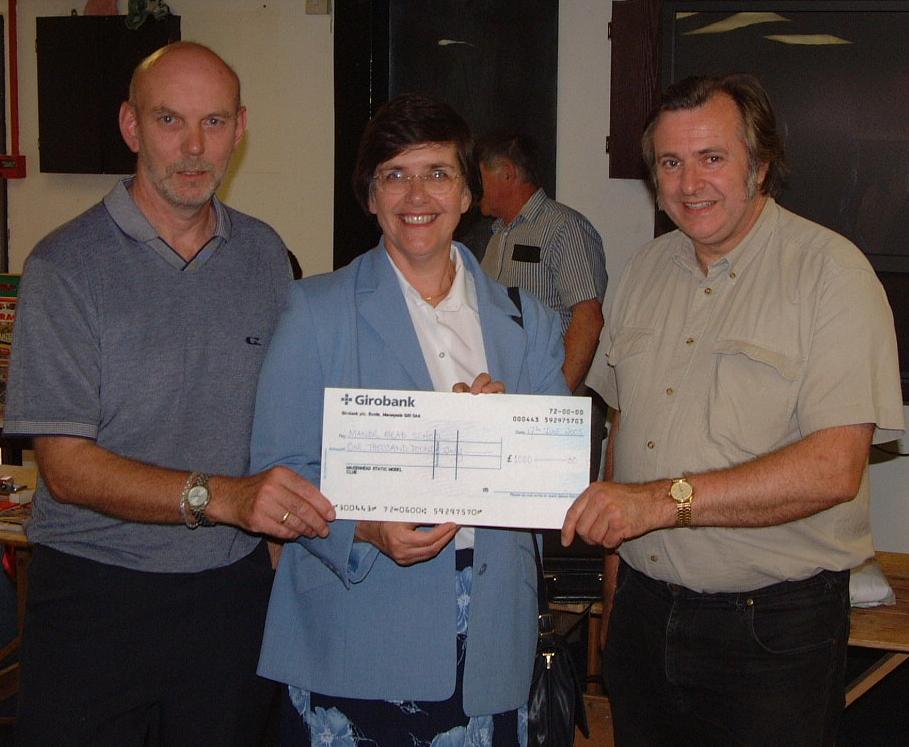 For the club year 2002/3, the MSMC were proud and privileged to hand over a cheque for £1000 to Manor Mead School, Shepperton. Manor Mead is a community day special school for boys and girls with severe learning difficulties. Mrs Fiona Neal, headteacher and assistant head Gini Lara accepted the donation, which will be used to purchase 'sensory equipment', which is accessible to children with profound disabilities.
Our picture shows MSMC chairman Peter Carpenter (left) and former chairman Mike Forbes (right) presenting the cheque to Fiona Neal in June 2003.
The MSMC would like to thank Corgi Classics for their continued involvement and support of the club's charity projects.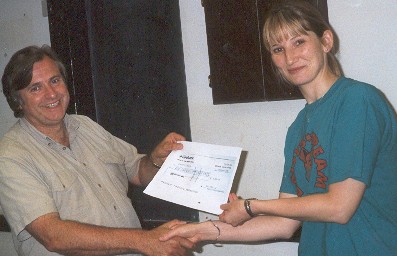 For the club year 2001/2, £1,000 was presented to Daisy's Dream, a charity that gives special care to children who have been bereaved of one or more of their parents.
Mike Forbes presented the cheque to Julia Guest of Daisy's Dream in July 2002.